Getting to Orcières Merlette 1850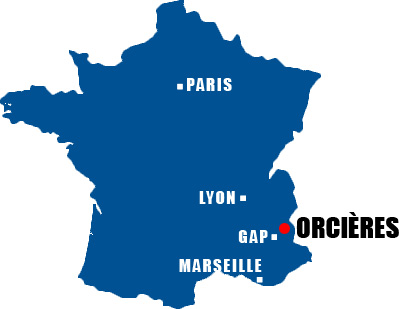 Orcieres Merlette 1850 is situated on the edge of the Ecrins National Park and is 45 minutes from Gap which is just at the end of the A51 motorway (La Saulce exit) and accessible by train from Marseille, Grenoble or Valence. Departmental lines ensure the transfer between the train station of Gap and the station.
It's easy to get to from the South of France (Marseille 220km), Centre (Lyon 220km), Paris area (Paris 680km), or from Europe (Turin 220km, Barcelona 660km, Bruxelles 950km, Antwerp 990km).
Consult the Transport section to find out all the coaches and shuttles available to you, whether on the town or for your transfers from a TGV station (Aix, Grenoble) or the nearest airports (Marseille Provence, Grenoble Isère).
Directions from Gap to Orcières-Merlette
In winter, we recommend that you use the Casse-Blanche car park (P1) with 700 covered spaces, monitored and free. Make sure you have special equipment: in snowy weather, chains may be made compulsory for access to the resort. Since 2021, special equipment (4 snow tires or a pair of chains on board) is required to travel in the Hautes-Alpes department from November 1 to March 31 of each year.
Remember to check the traffic conditions in real time on Inforoute05. Finally, equip yourself to clear snow from your vehicle and keep an eye on it during your stay: you may have to move it to allow snow removal operations.

Road webcams in the Hautes-Alpes